WELCOME TO ISEBAHAMAS
GLOBAL TECHNOLOGY FOR THE BAHAMAS, THE CARIBBEAN, THE WORLD
In today's world, technology is growing leaps and bounds each and every year. Technology that is available today, was not even fathomable just a few decades ago. One such scientific technology is the DNA; found in the human body. Just like human DNA, CPU's or computers as we know it have their own DNA coding.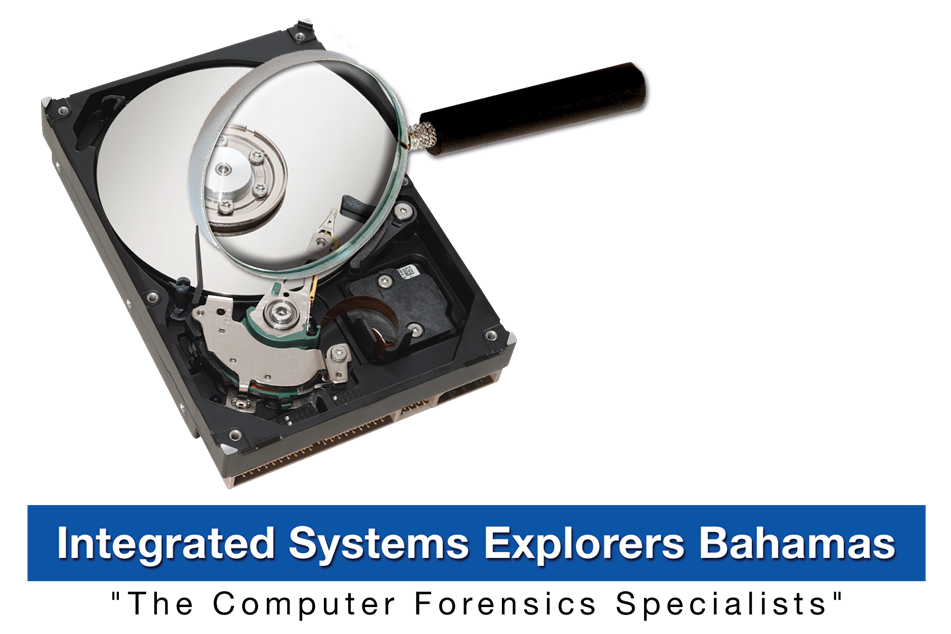 It is this coding, combined with the latest technology that let expert computer examiners like ISEBahamas reclaim hidden data once thought to be destroyed by the suspect. Today, information can be reclaimed off of most devices used in our everyday life such cell phones, computers, hand-held devices etc.
---
Computer Forensics
Integrated Systems Explorers Bahamas, is the first and only Certified Computer Examiners Company in the Commonwealth of The Bahamas that is affiliated with the International Society of Forensics Computer Examiners known as the ISFCE.
What is Computer Forensics?
Computer Forensics is the art of applying computer science to aid the legal process. Although plenty of science is attributable to Computer Forensics, most successful investigators possess a nose for investigations and a skill for solving puzzles, which is where the art comes in. To put it simply, Computer Forensics is the application of computer investigation and analysis techniques in the interest of determining potential legal evidence.
Why is it important to enlist the services of an examiner who is "Certified"?
There are many computer professionals out there that may seek to qualify themselves as a computer examiner expert. However, in a court of law an expert is one who is deemed to provide a Qualified Professional opinion on a particular subject matter. The (CCE) Certified Computer Examiner Certification may afford this person that opportunity to qualify as an "expert witness" in a court of law while providing valuable testimony. Whereas, other computer professionals do not qualify because of their non experience in the subject matter. Mr. Bert Moss ISEBahamas president, is a certified computer examiner.
Examples of when a Computer Examiner can be of assistance
An example of how computer forensics is affecting the current workplace is the aspect of security. Employees' work computers are now being monitored to ensure no illegal actions are taking place in the office. They also have heightened security so outsiders cannot access a company's confidential files. If this security is broken a company is then able to use computer forensics to trace back to which computer was being tampered with and what information was extracted from it, possibly leading to the guilty parties and other potential parties involved.
Another example is the case of "Chandra Levy" who went missing on April 30, 2001. She was a Washington DC intern whose disappearance was widely publicized. While her location was unknown, she had used the Internet as well as e-mail to make travel arrangements and to communicate with her parents. The use of this technology helped a computer criminalist trace her whereabouts. The information found on her computer led police to her location, even though she had been missing for one year.
A final example is where there have been a number of cases at institutions where authority figures have been charged with possession of child pornography. These discoveries were made using computer forensics. By tracking the buying and selling of pornography online, computer forensic investigators have been able to locate people involved in these crimes. They are able to use information found on the computers as circumstantial evidence in court, allowing prosecution to occur.
Who can benefit from the services of a Computer Forensics Examiner?
State Prosecutors, Defense-Attorneys, Private Investigators, Government Agencies, Private Businesses, Police & Defense Departments, Insurance Agencies, these are but a few of the client demographics which a computer forensics scientist can be of assistance.
Attorneys, it may be a case of Civil Litigation Hearings, Family Law (Divorce proceedings), Labor-Employment proceedings, Estate-Trust (fraud) proceedings, Corporate-Commercial proceedings, Criminal proceedings, Personal Injury or Negligence claims proceedings or just a proceeding for cases of Insolvency and liquidations, DON"T allow a suspect to walk "scot free" for lack of sufficient evidence, if the evidence is there "digitally", be sure, ISEBahamas will locate it.
Private business owner; get the evidence needed to put away that frivolous lawsuit of wrongful dismissals or terminations by your EX- Employees. Your company policies were implemented for a reason. Click here to learn more about setting company policies and implementing these security policies and measures.
Private Investigators, Police officials, State prosecutors and Defense Attorneys let ISEBahamas work with you to examine a suspects computer maybe the evidence that vindicates your client or perhaps incriminates the suspect may be there just one click away. The best methods are employed during the collecting of evidence, per standard practices and we will ensure that the evidence is not contaminated and is able to be used in a court of law.
We will also provide expert testimony if need be. This is usually determined by the client who employs ISEBahamas or the attorney of that client that employs ISEBahamas.
To view our article for the eForensics Magazine entitled: "Metadata in Digital Forensics" - August 2013 issue click here
Data Recovery Services
Have you ever deleted an important data file by accident while attempting to cleanup your system? What about inadvertently formatting a hard drive with important data files on it? If the information is that important to you, why not recover it? Contact ISEBahamas and let us examine your hard drive to see if we are able to locate and retrieve the deleted data file(s) intact for you; even if the drive appears to have some type of damage.